Home > Accessories > Blue Light Blocker
Highest rated blue light blocking technology | BLUOFF filter (31%) on clear lens maintains true color perception | Reduce eyestrain and help myopia control | Wear directly or fitover glasses
Regular price
$79.95 USD
Sale price
$29.95 USD
Unit price
per
Christmas Sale
Sold out
Fast & Free Shipping

Free Shipping on All Orders Above US$100 | £80 | CA$140 | AU$160 (hint: combine with your other frame & lens order)

USA, UK, Australia & Canada Shipping

Standard 7-10 Business Days: $9.95 | £9.00 | AU$15.00 | CA$14.00

Express 2-4 Business Days: $19.95 | £17.00 | AU$30.00 | CA$42.00

Checkout within 24hrs: Upgrade to Express for $5.95 (USA Only).

International Shipping

Rates will depend on your destination.
14 Days Easy Returns

Within 14 days, you may return, exchange or receive a refund on your purchase if you are unhappy with them.  Full refund is only eligible for unused Fitovers with original packaging.
Fitover Sizing

Please measure the width and height of your eyeglasses to determine which Fitover shape fits better.

ROUND shape fits for medium size glasses not exceeding 139mm (5.47") x 45mm (1.77")

SQUARE shape fits for larger size glasses not exceeding 142mm (5.59") wide x 45mm (1.77")
How Bluoff Technology Works

Understand What Does Blue Light Do To You

Electronic screens emit high frequency blue light.  Although blue-violet light is not as harmful in comparison to UV light, it is still entirely unfiltered as it passes through the eye and reaches the retina.  This causes potential damage and has been implicated to be one of the possible causes of damaged retinas due to an overexposure of high-energy incident light, also known as photoretinitis.

This damage and eye strain caused will also lead to eyeball deformation and hence, causing Myopia. This is why it's important to wear blue light blocking glasses to maximize long term visual health, especially when spending a considerable amount of time on electronic screens on a daily basis.  

How does BLUOFF technology protect your eyes?





LENS LAYERS & FUNCTIONS

1 and 6: Oleophobic Coating - water / oil repellent, reduces smudge and fingerprints.

2: Front-side HEV (High Energy Visible) blue light filter by digital vacuum coating - reflects away and reduces 12% visible blue light (380-500nm). Reduces eye fatigue and enhances  color contrast.

3 and 5: Scratch resistant hard coating ensures greater durability and perfect visual quality.

4: Polycarbonate(PC) lens with internal blue light blocking tint, eliminates 100% UVA and UVB, and also absorbs additional HEV blue light from 19%(with BLUOFF FILTER) to 50%(with BLUOFF X-TREME FILTER). Maximizes vision performance while reducing eye fatigue and protecting your eyes from hazardous light emission from electronic screens.

BLUOFF FILTER (31%): Clear lens reduces 19% HEV Blue Light by absorption + 12% by reflection from lens surface

BLUOFF X-TREME FILTER (62%): Amber lens reduces 50% HEV Blue Light by absorption + 12% by reflection from lens surface

 
View full details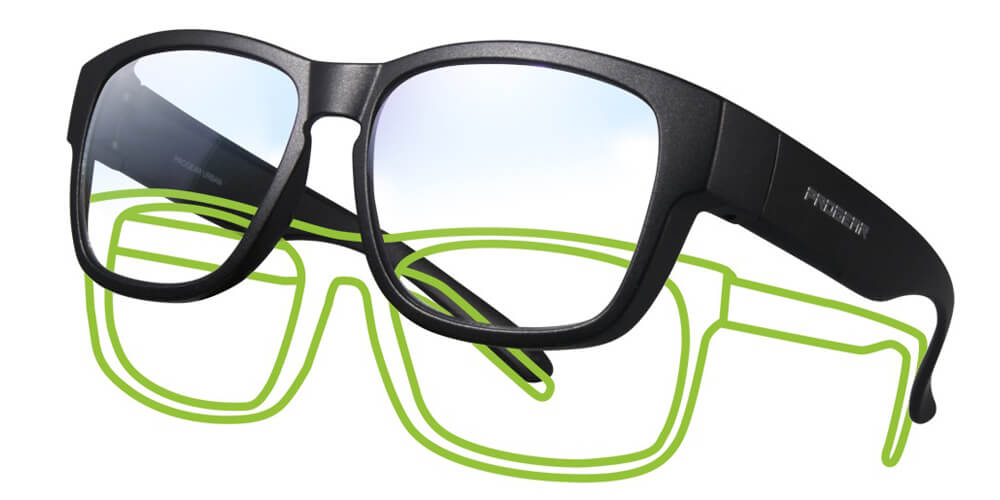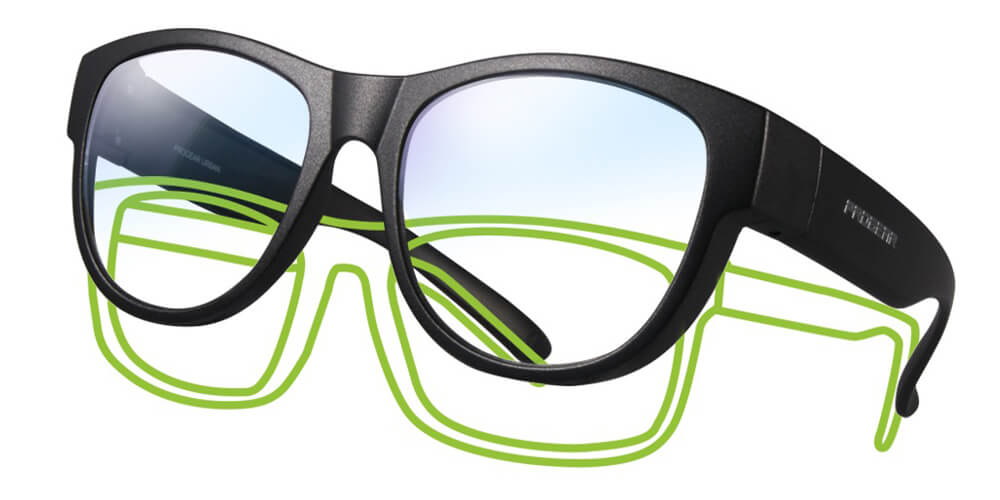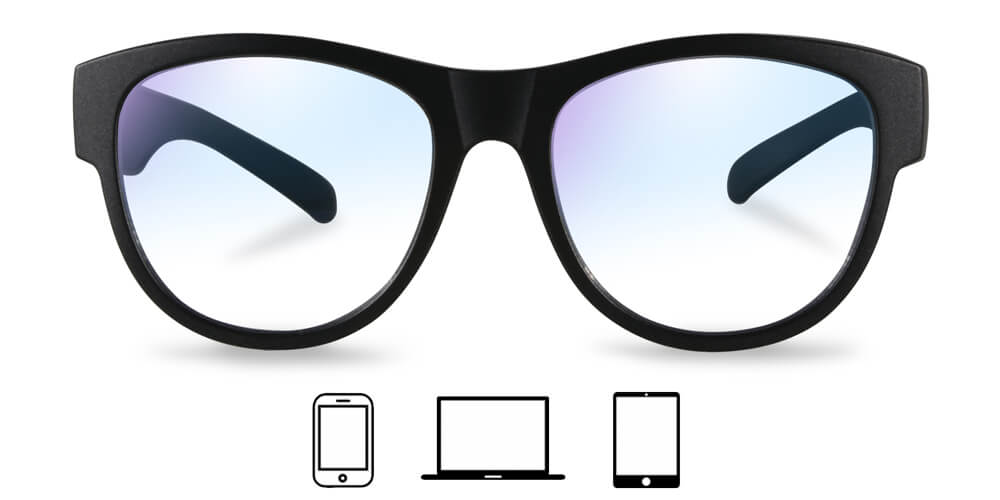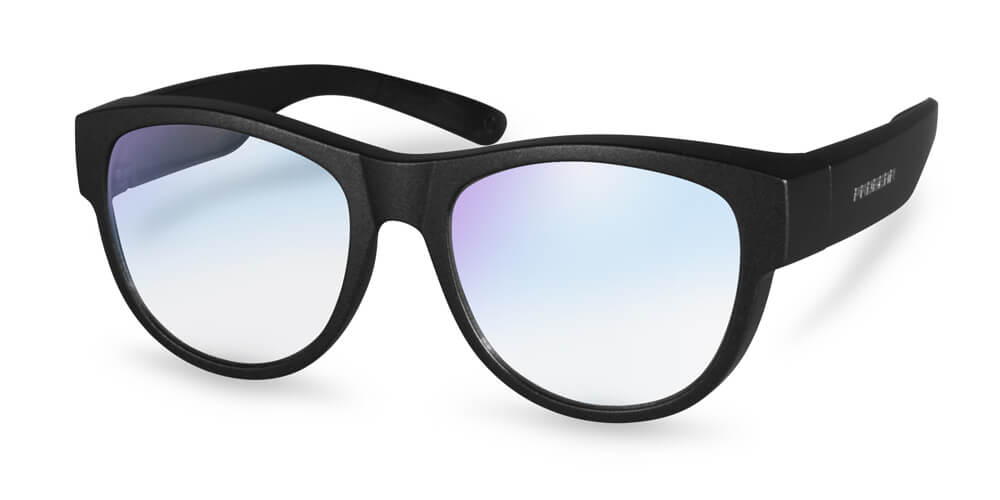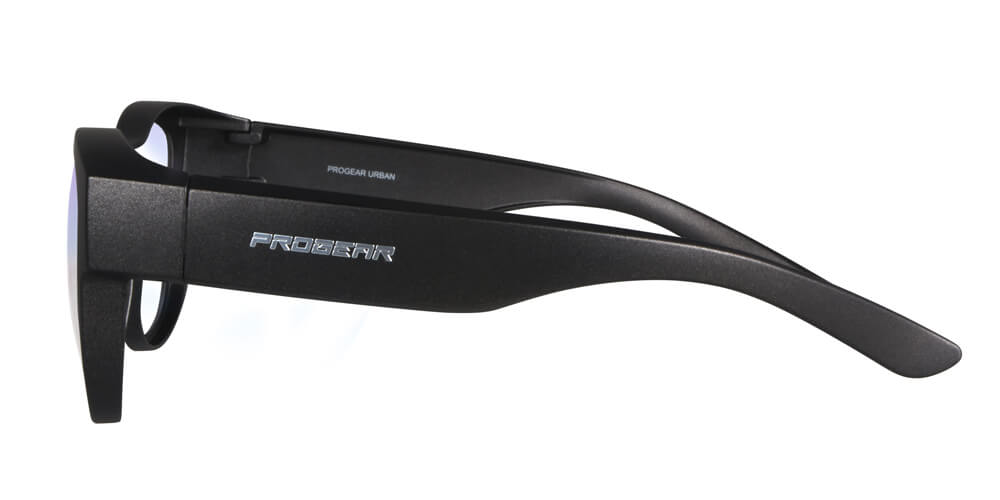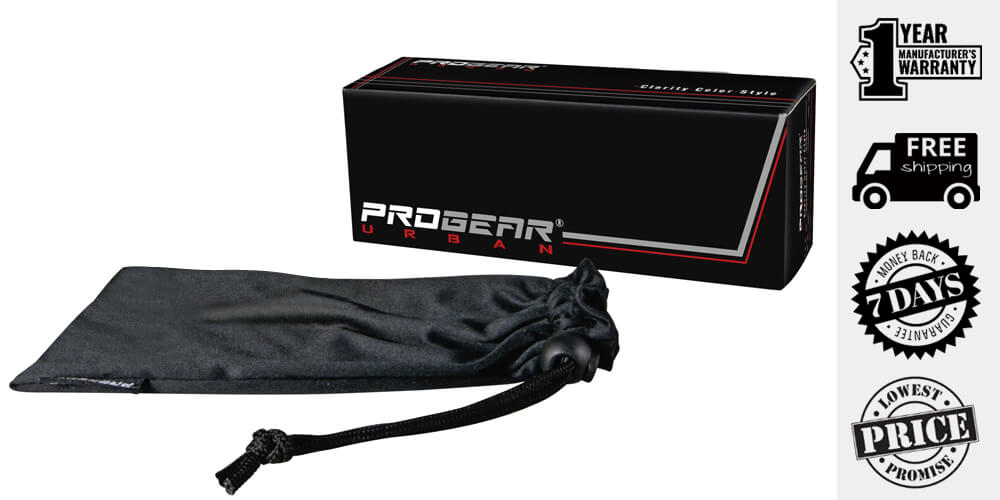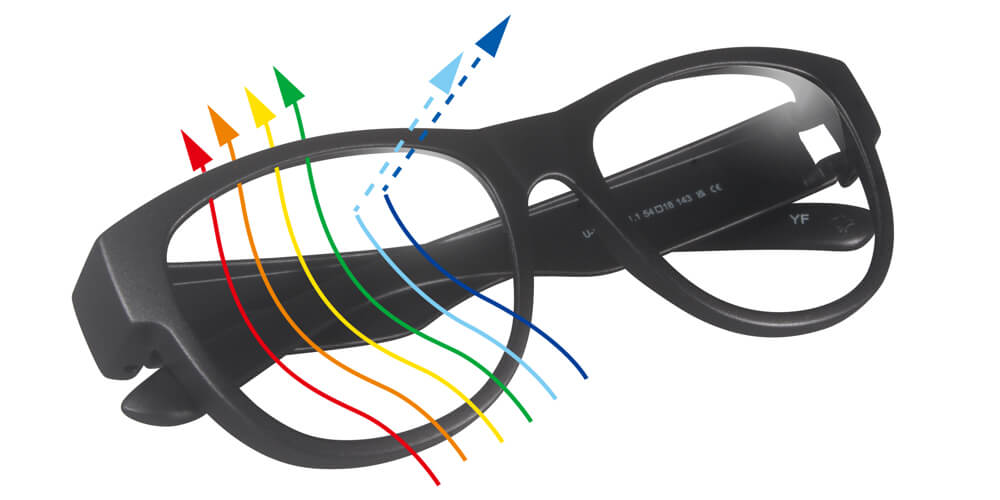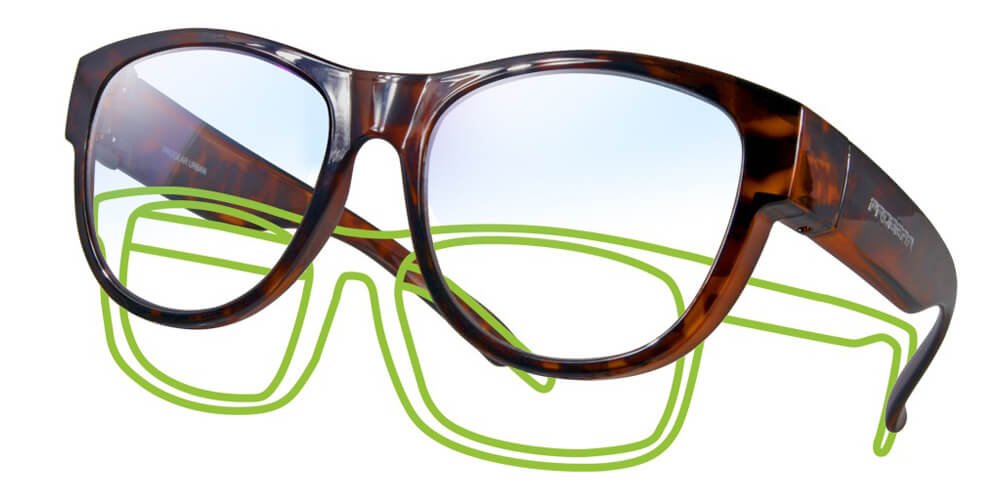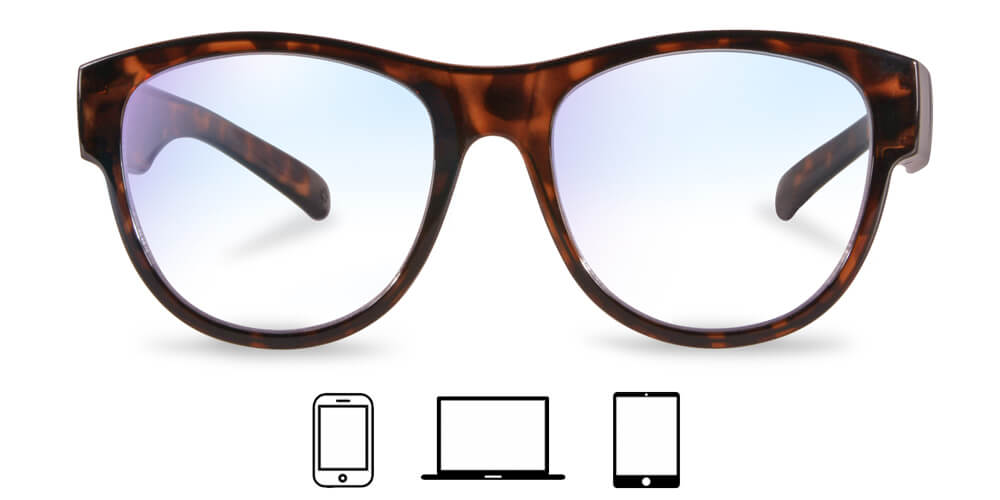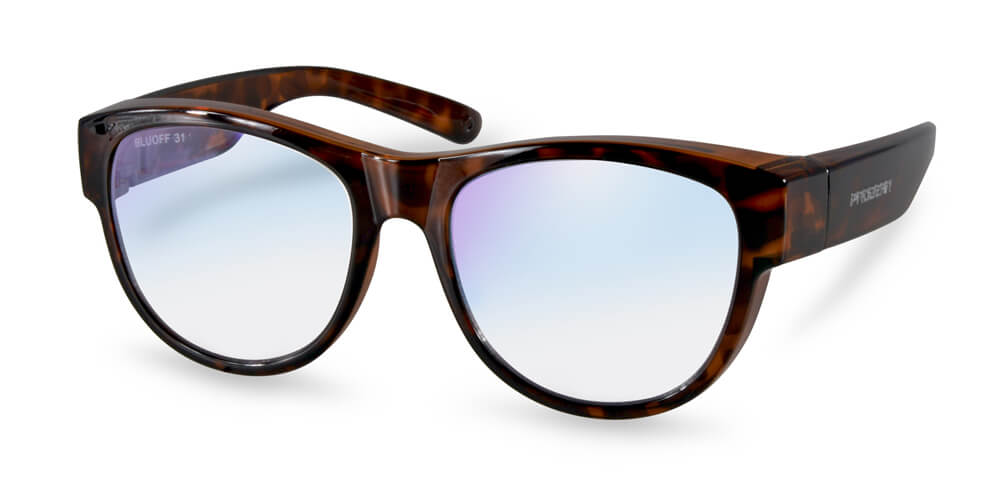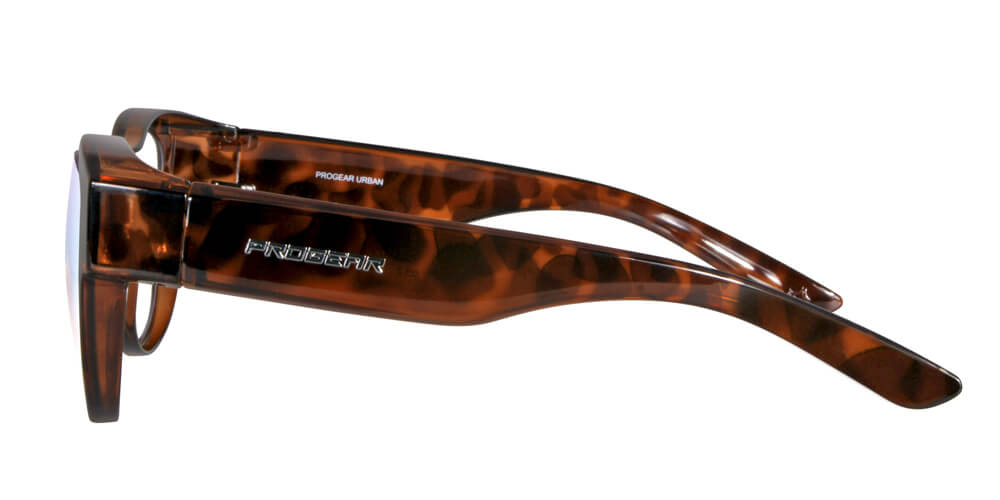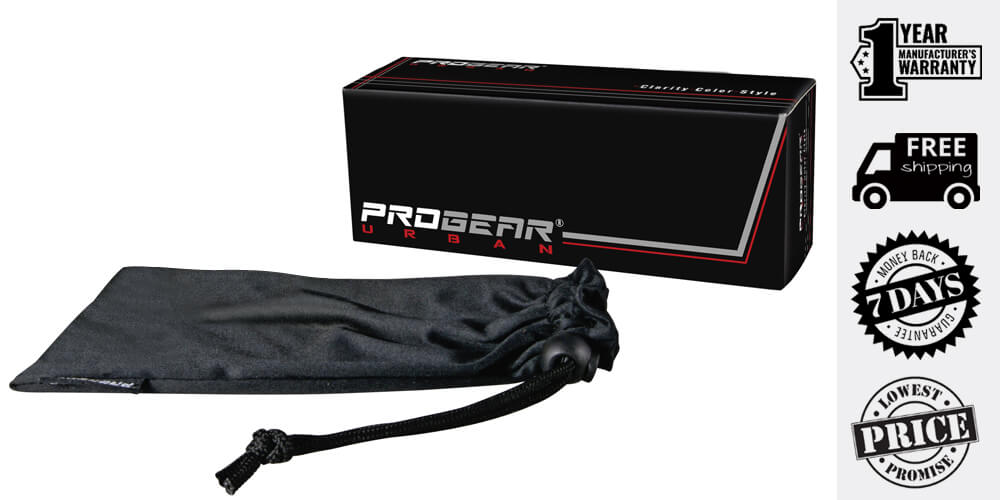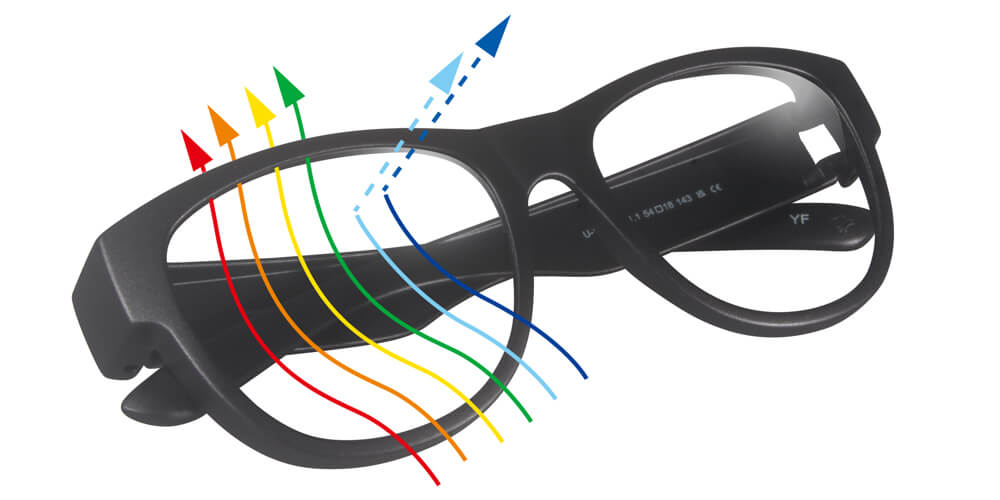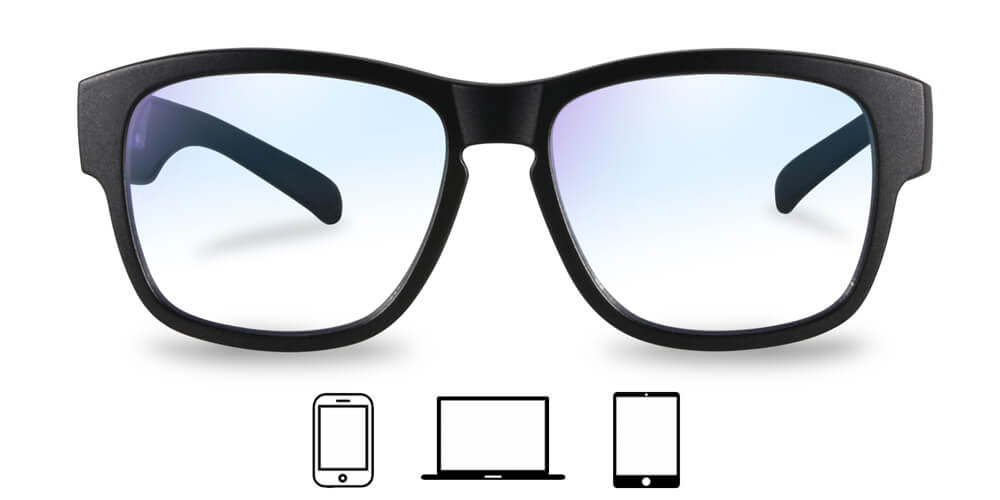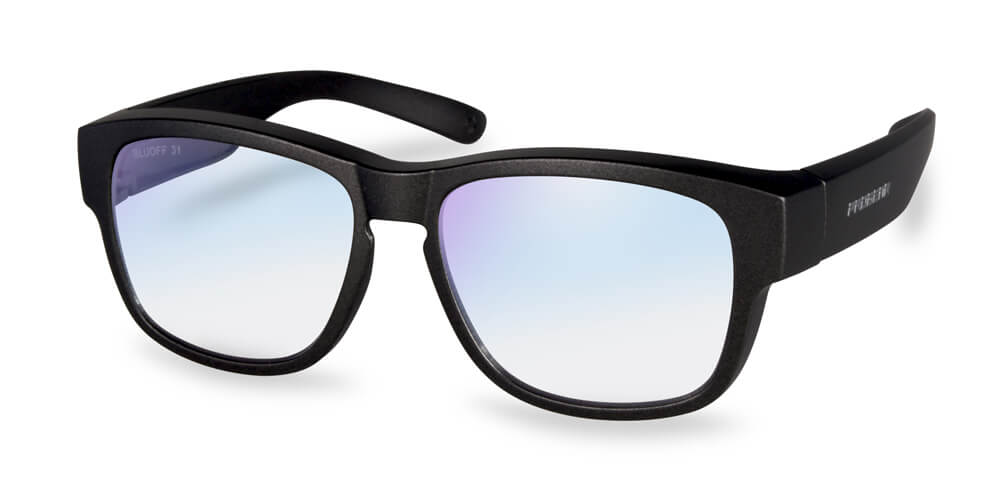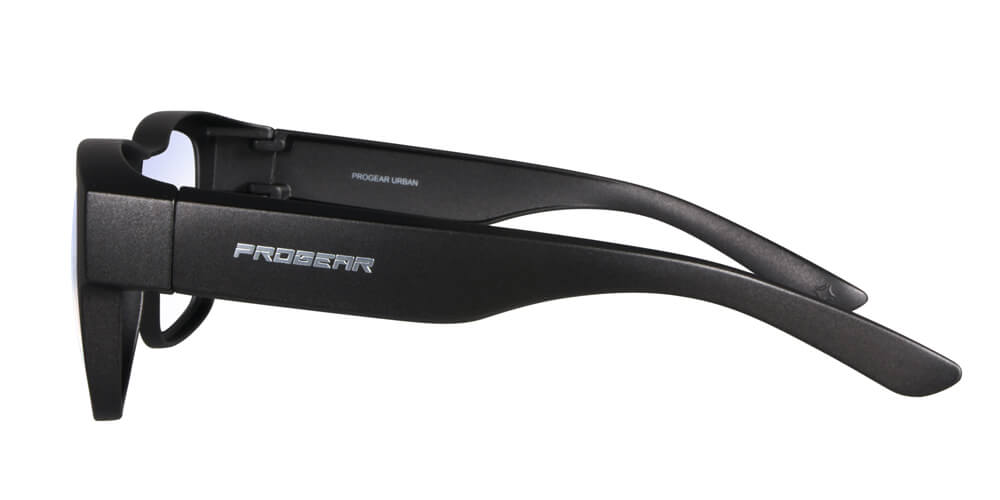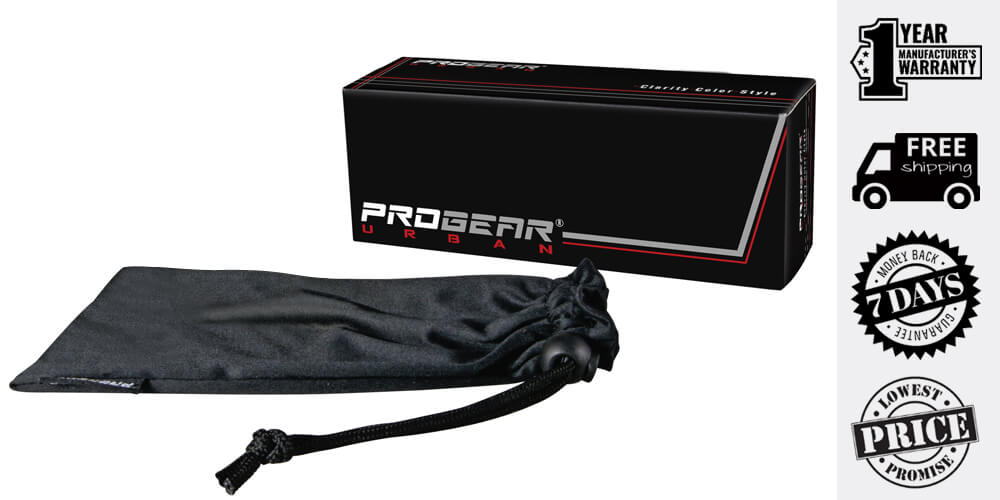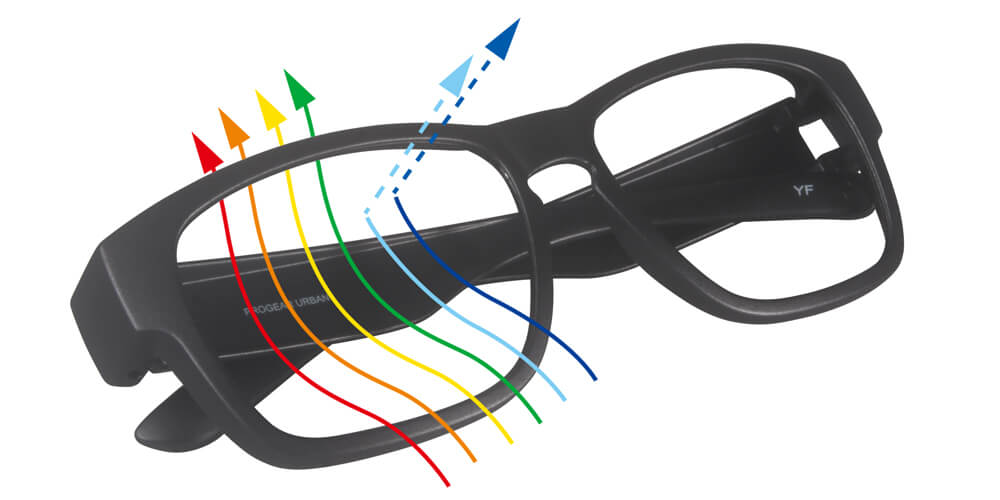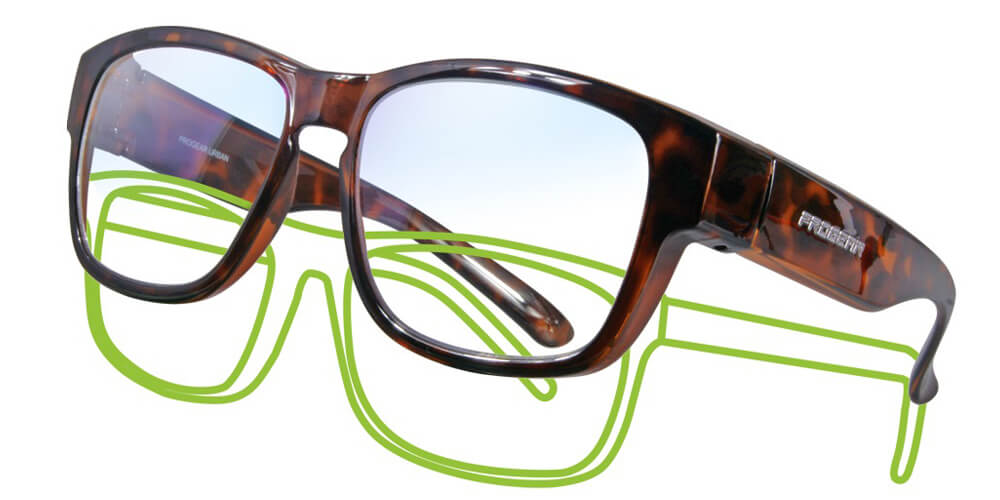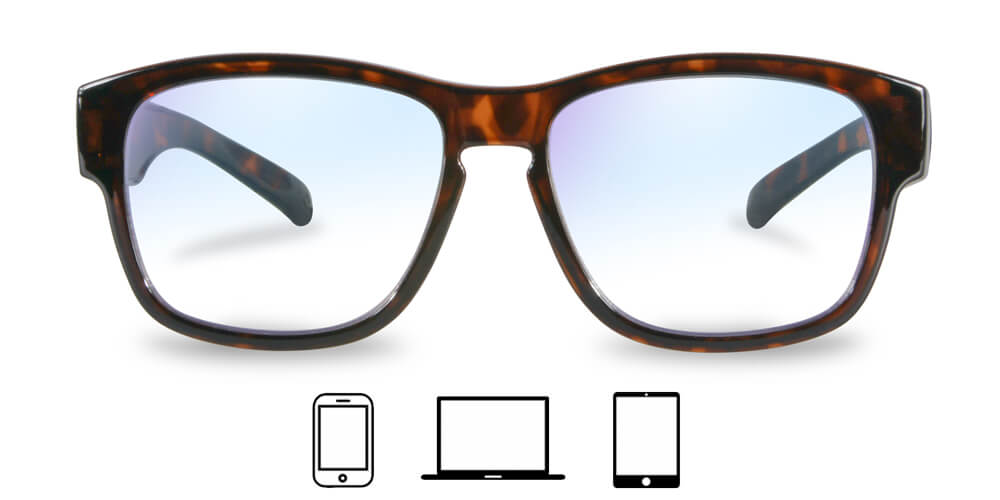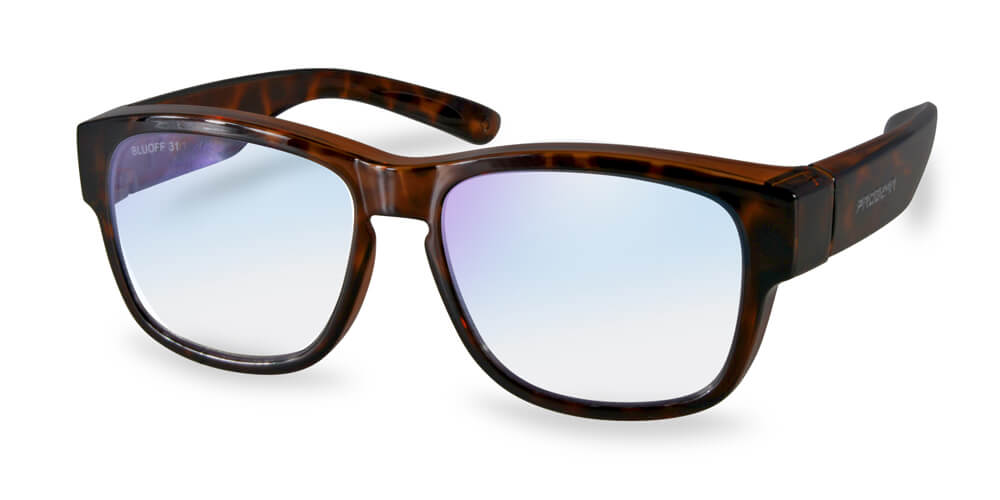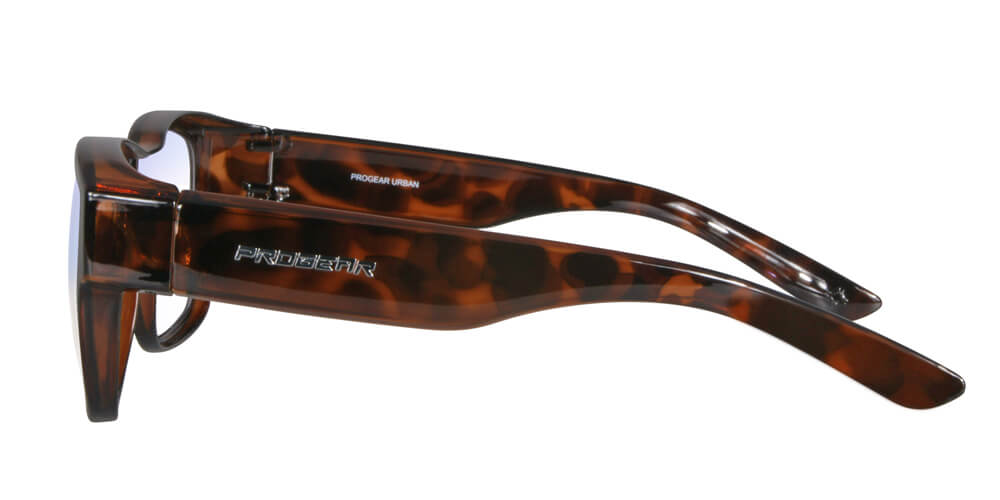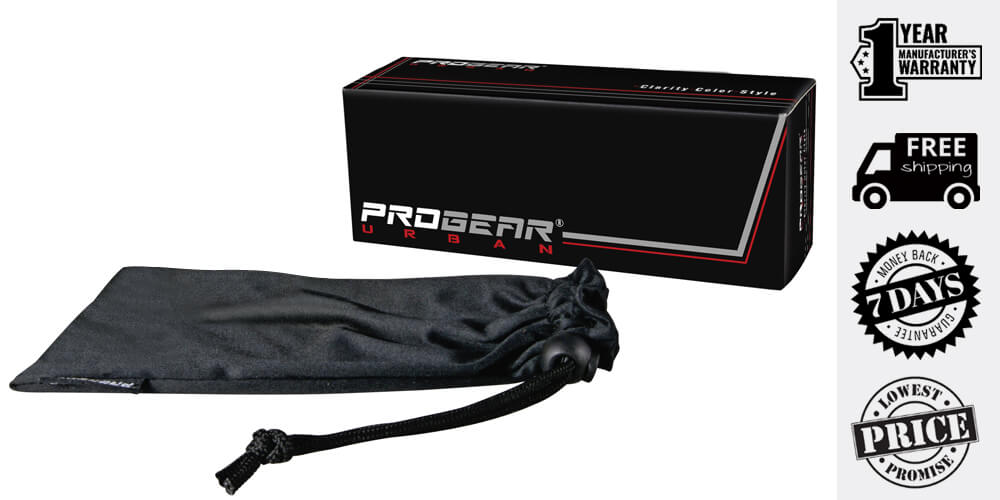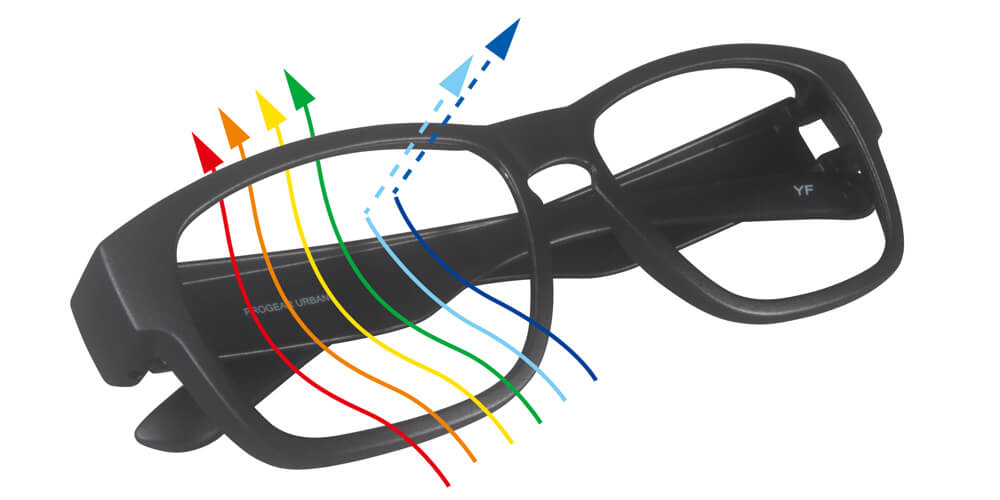 Fitover Other Glasses

Beautifully crafted to be worn over your regular prescription glasses or can also be worn on their own.

Blue Light Protection

On average, people spend up to nine hours a day in front of a digital device that emits blue light. Blue light can damage the retina and cause cataracts.

Myopia Control

Blue light increases eye strain and fatigue. This fatigue will cause your eyes to work harder in order to properly focus, which leads to potential eyeball deformation, and hence, causing Myopia.

Better Sleep

In the same way a walk outside in the sun can make you feel awake, looking at a digital screen will also keep you awake due to the short wavelengths emitted from blue light. This will cause a delay in the release of melatonin, making it difficult to sleep.

Reduces Eyestrain

Blue light blocking glasses can help increase contrast when viewing a digital screen, making it easier for you to concentrate and subsequently reducing eye strain.

Reduces Headaches

Light, especially blue light can trigger migraines and exacerbate headaches.
Good for work
I use it at my office job and my headaches are gone
Great
My son loves it and uses it for online classes and gaming!
good for what it sets out to do
the glasses worked as intended and has helped me get better sleep lately by blocking out the blue light from my computer, imo it was worth what I payed for it.
Releives eye strain.
Like relief of eye strain. working with large monitors.
Nice and worth the money
Got these for my grandson and he loves them
If you're looking for a sign to buy them... THIS IS IT!
Glasses definitely work. I game 6-8 hours a day so that's alot of screen time.. Anyway, I noticed a huge improvement from the first usage. No headaches or strained eyes, and easier to fall asleep after a long game session at night. I bought a second pair for my Gf since her job consists of ALOT of computer time.
Worth it!
these glasses protect very well, I am not as tired throughout the day after working on the computer for long hours. they are very light and barely feel like I have them on.
Gamer Recommend
I absolutely love these glasses. I am an avid gamer so I am looking at screens A LOT, and since using these glasses I have not had any head aches.
Good quality and price
Good quality and price, excellent customer service.