Home > Accessories > Anti-Fog Wipes
No more foggy glasses! - Joy L.
Regular price
$14.95 USD
Sale price
$9.95 USD
Unit price
per
Christmas Sale
Sold out
New improved formula | Lasts 24 hours each application | 30 wipes/box | Safe on all lenses | Non-toxic and eco-friendly

PROGEAR® Anti-Fog Wipes  | Anti-Fog Gel
Fast & Free Shipping

Free Shipping on All Orders Above US$100 | £80 | CA$140 | AU$160 (hint: combine with your frame & lens order)

USA, UK, Australia & Canada Shipping
Standard 7-10 Business Days: $9.95 | £9.00 | AU$15.00 | CA$14.00

Express 2-4 Business Days: $19.95 | £17.00 | AU$30.00 | CA$42.00

Checkout within 24hrs: Upgrade to Express for $5.95 (USA Only).

International Shipping
Rates will depend on your destination.
14 Days Easy Returns

Within 14 days, you may return, exchange or receive a refund on your purchase if you are unhappy with them.  Full refund is only eligible for unopened wipes with original packaging.
How to use?

Anti-Fog Wipes for Glasses - Features & Benefits:

• Last 24 hours

• Safe for all glasses lenses / coatings

• Wipe size: 9cm x 12cm

• Disposable, one time use only

• 30pcs/box



Anti-Fog Wipes for Glasses - Instruction to Use:

• Tear open packet and lightly brush away any dust or dirt with folded wipe.

• Unfold wipe and use the clean side to wipe the entire surface for anti-fog treatment.

• Let dry for 10-15 sec. Single use only.



Anti-Fog Wipes for Glasses - FAQ:

[Q] Can I use it for any glasses?
[A] Yes, it is designed with a new and improved PFAS free formula that can be applied to all glasses, eyewear, and lenses including multi-coated.

[Q] Can it be used when wet?
[A] It can, but results will not be great. Please make sure to apply on dry lenses to ensure that Anti-Fog application is optimal.

[Q] How many times can I use?
[A] One box contains 30 Anti-Fog Wipes. Each wipe will last up to 24hrs.

[Q] How many times should I apply per day?
[A] Only apply once or twice per day. One application will last up to 24hrs.
Non Toxic & Eco-Friendly

Our Anti-Fog products were created with a new and improved formula that is free from PFAS (PFOA & PFOS). Certified by Bureau Veritas, Lab Case # (6221)034-0305

We ensured that our product was not like any other anti-fog solution in the market, so we really had to make sure that ours did NOT contain any of these chemicals that are known to lead to serious health issues such as cancer and hormone disruption. With PROGEAR® Anti Fog Gel and Anti Fog Wipes, you can apply with peace of mind and without hesitation.
View full details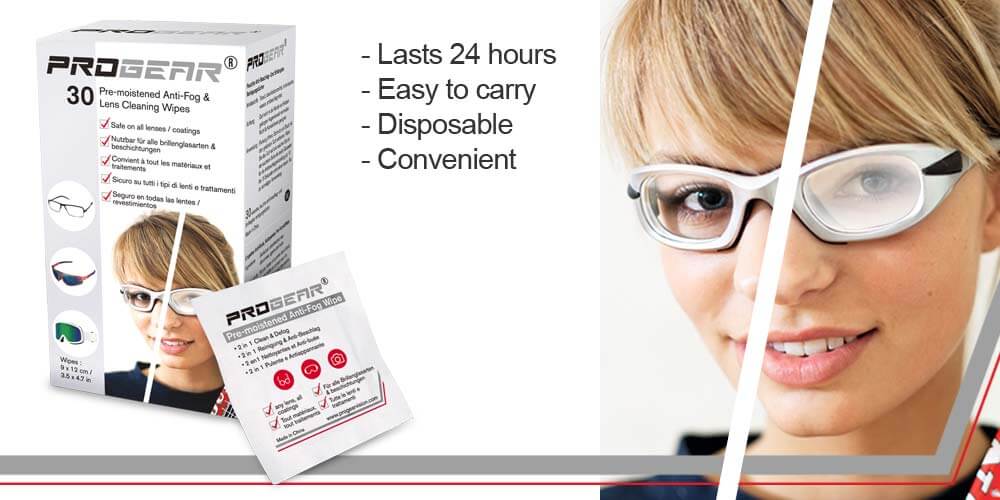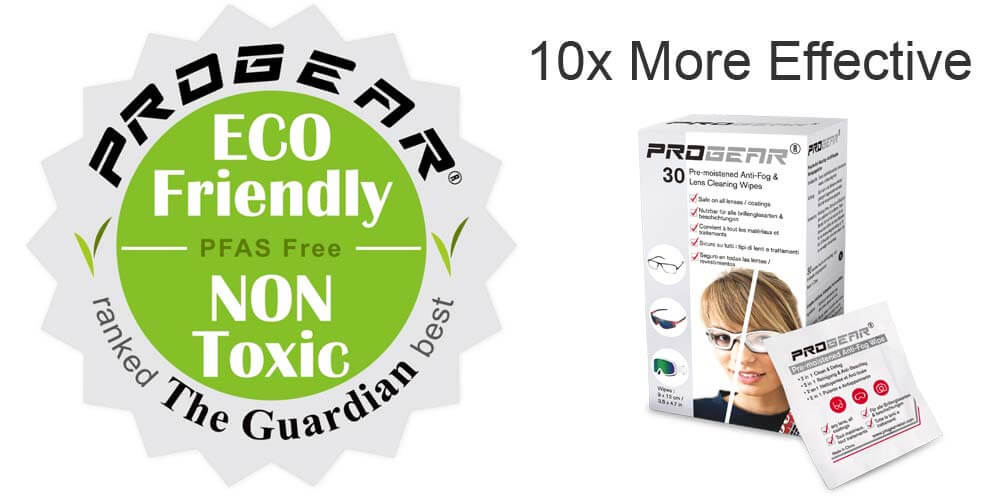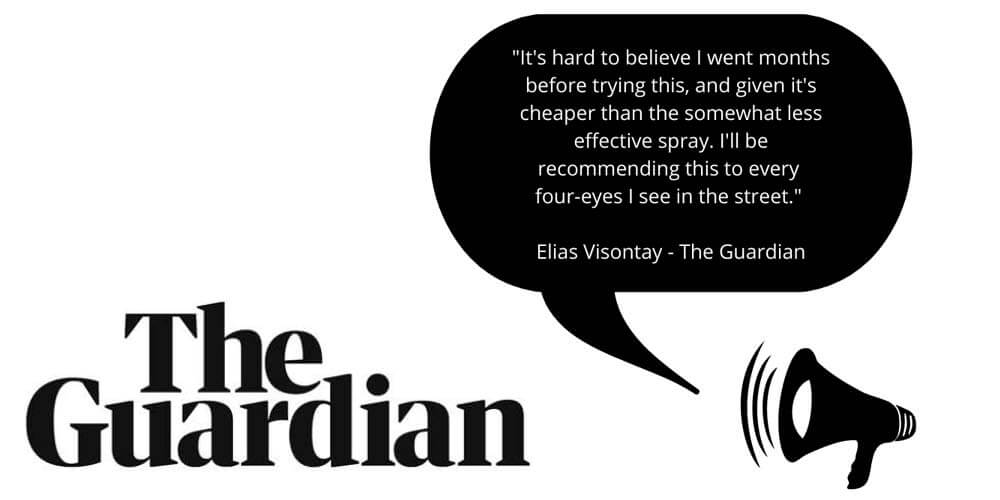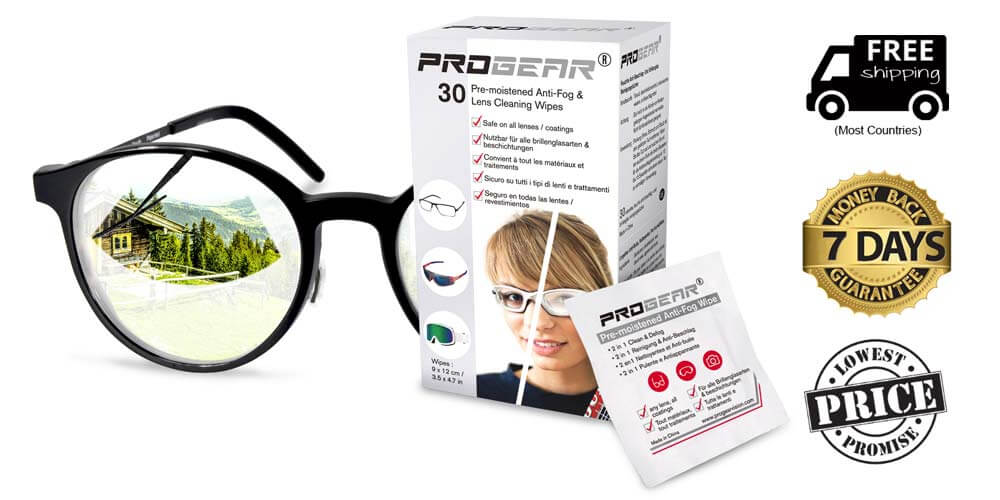 PROGEAR® Anti-Fog for Glasses - WIPES
An anti-fog product that actually works!
These wipes clean as well as prevent fogging. They work with mask-wearing and even in a hot, steamy bathroom! A godsend!
Good most of the times
When it works it works well. Some of the wipes are kind of dry and won't work well. When fresh and wet the work good.
PROGEAR® Anti-Fog for Glasses - WIPES
Two thumbs up 👍 👍
Solves the problem of glasses and masks! Works great! I was a bit skeptical that these would work but they absolutely do, perfectly! Love them
Keeps glasses clear
I am a nurse and use this to keep my face shield from fogging up! works great, would recommend
Really works!
This product is amazing! I told all of my glasses wearing friends!
Happy purchase
Works well when applied properly
Solid product
I use this for my glasses since the masks fog me and my daughter's glasses up all the time!
Great for the mask wearing issue