Home > Accessories > Anti-Fog Gel
It really works! - Melissa C.
Regular price
$19.95 USD
Sale price
$14.95 USD
Unit price
per
sale ends sunday
Sold out
[Limited Time] Grab 3 for the price of 2 (use code "AFGBF342" at checkout). Redeem by selecting "3" in the quantity bar below and use code at checkout.
It really works! | Newly improved formula | Lasts 24 hours each application | 100+ doses per 5g tube | Safe on all lenses | Non-toxic and eco-friendly
Fast & Free Shipping

Free Shipping on All Orders Above US$100 | £80 | CA$140 | AU$160 (hint: combine with your frame & lens order)

USA, UK, Australia & Canada Shipping
Standard 7-10 Business Days: $9.95 | £9.00 | AU$15.00 | CA$14.00

Express 2-4 Business Days: $19.95 | £17.00 | AU$30.00 | CA$42.00

Checkout within 24hrs: Upgrade to Express for $5.95 (USA Only).

International Shipping
Rates will depend on your destination.
14 Days Easy Returns

Within 14 days, you may return, exchange or receive a refund on your purchase if you are unhappy with them.  Full refund is only eligible for unopened gel with original packaging.
How to use?

Anti-Fog Gel for Glasses - Features & Benefits:

• Lasts 24 hours per application

• Safe for all eyeglasses, coatings, sunglasses, goggles, visors

• Easy to carry

• 100+ applications per box




Anti-Fog Gel for Glasses - Instruction to Use:

1. Open the cap and gently cut off the tip (roughly 2mm) of the tube to release the gel.

2. Apply only a tiny drop on each lens for best results. The 5g tube is enough for 100 applications.

3. Gently wipe the entire lens until dry & clean. DO NOT use a microfiber cloth, use the yellow Chamois Cloth included to ensure proper anti-fog results.

4. Apply on the inner side or both sides of lenses.



Anti-Fog Gel for Glasses - FAQ:

[Q] Can I use it for any glasses?
[A] Yes, it is designed with a new and improved PFAS free formula that can be applied to all glasses, eyewear, and lenses including multi-coated. 

[Q] Can it be used when wet?
[A] It can, but results will not be great. Please make sure to apply on dry lenses to ensure that Anti-Fog application is optimal.

[Q] How many times can I use it?
[A] One Piece of our Anti-Fog Gel for Glasses can be used in up to 100 applications. 

[Q] How many times should I apply per day?
[A] Apply only a tiny drop on each lens for best results. Only apply once per day. One application will last up to 24hrs.
Non Toxic & Eco-Friendly

Our Anti-Fog products were created with a new and improved formula that is free from PFAS (PFOA & PFOS). Certified by Bureau Veritas, Lab Case # (6221)034-0305

We ensured that our product was not like any other anti-fog solution in the market, so we really had to make sure that ours did NOT contain any of these chemicals that are known to lead to serious health issues such as cancer and hormone disruption. With PROGEAR® Anti Fog Gel and Anti Fog Wipes, you can apply with peace of mind and without hesitation.
View full details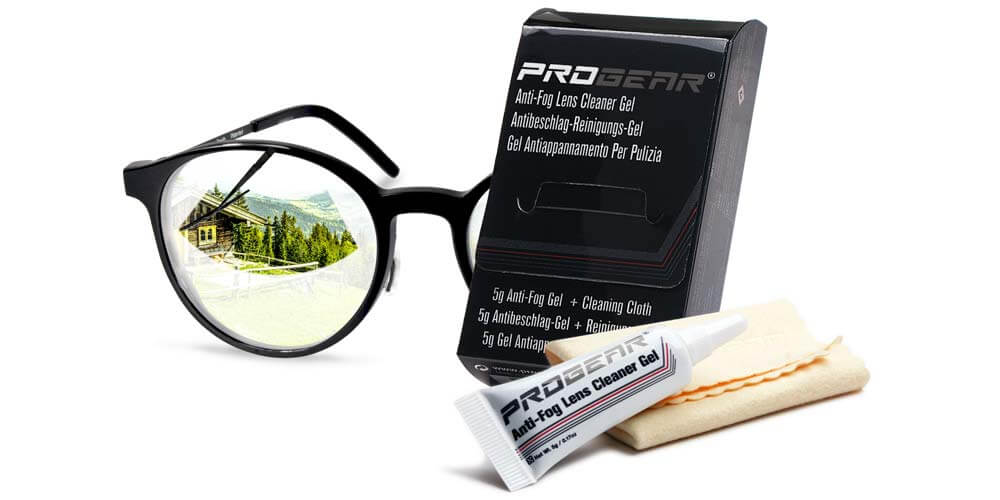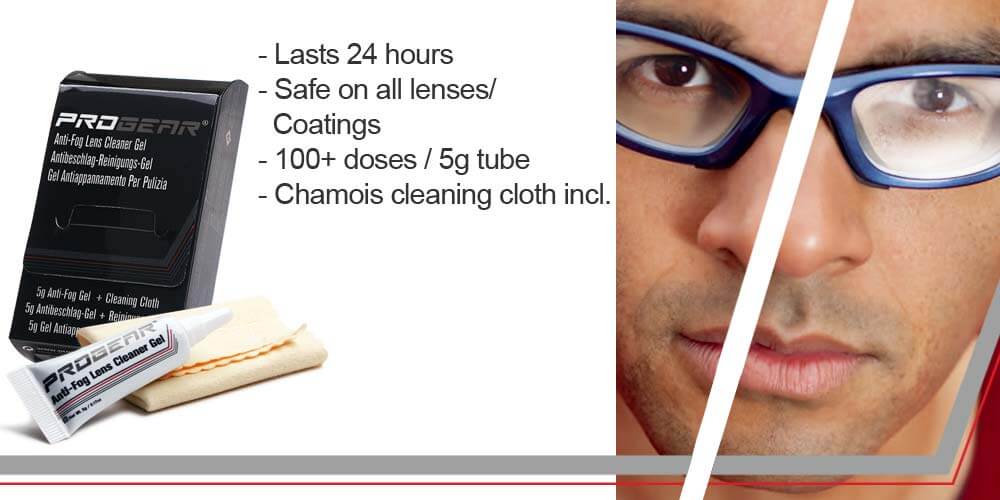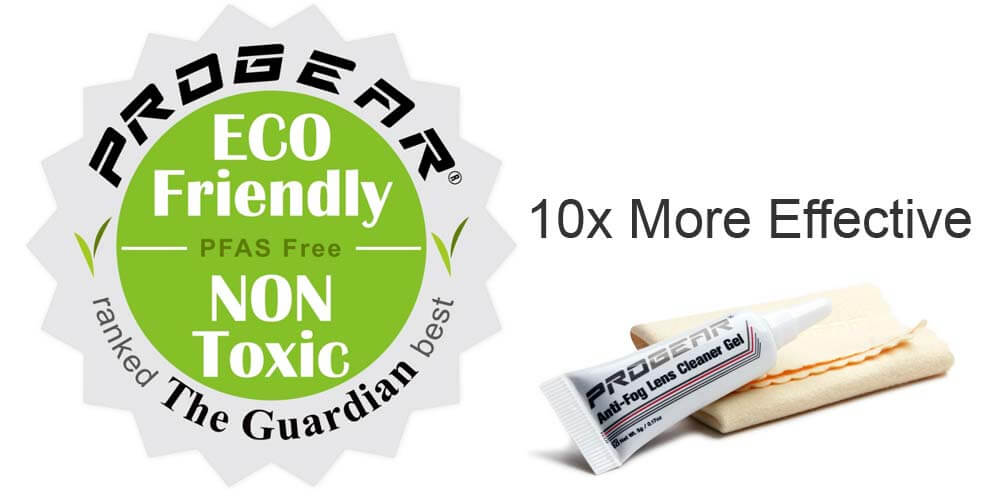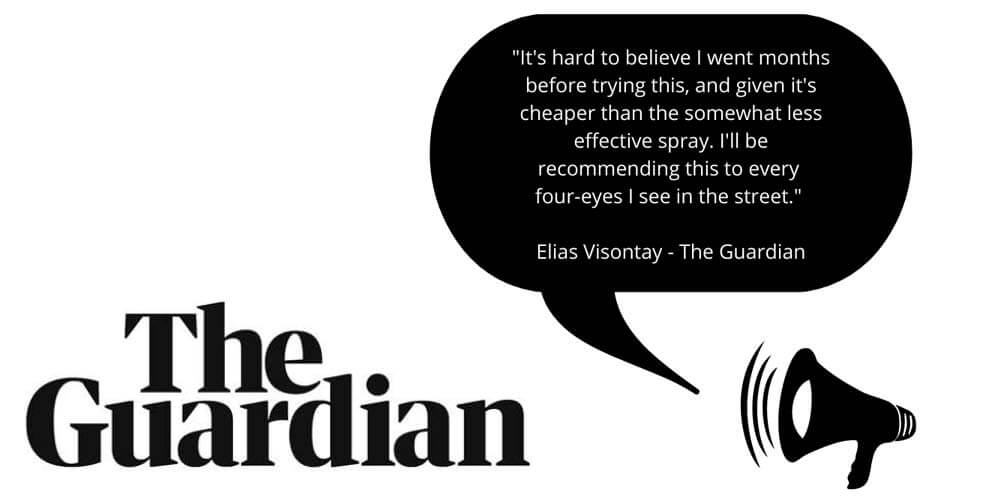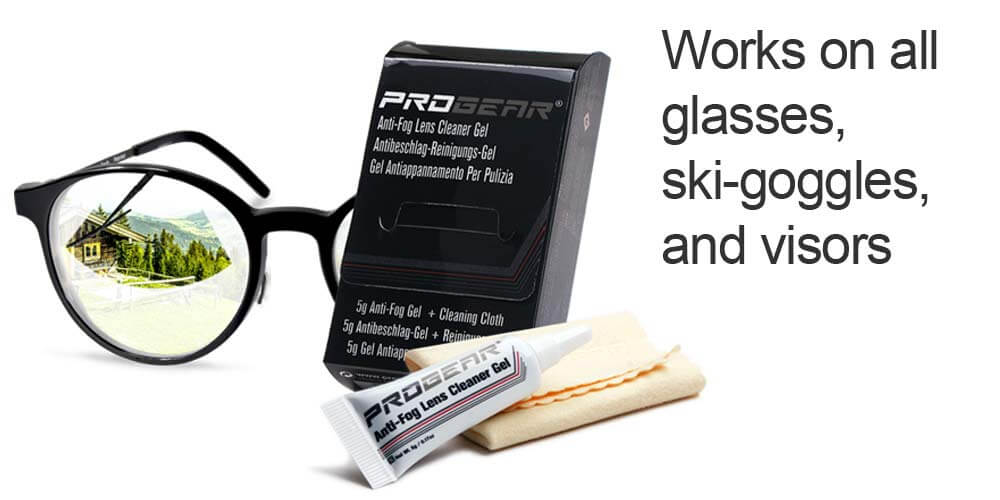 Too expensive
Come on. A billiionth of an ounce for nearly $20? Gouge my eyes out, why don't you?
Great Stuff...it works.
I tried everything I could think of on my sports goggles. Being a goalie there is a lot of heat generated in a cold environment. I could not stop the fog; which made viability a serious issue. I contacted the company and they referred this product. It is amazing. NO fog and lasts the entire game. This is the best I have tried. It even works better than some of the designated hockey shield anti-fog agents.
Best anti-fog agent yet
I'm a pathologist, and wear a mask all the time with glasses and at a microscope. This is the only product line I've found that works.
not truthful about product contents
The product was advertised as PFAS free, but when received, it says it contains fluorinated surfactants which are a type of PFAS
Really works!
I'm amazed at how well this works! Great product
Better than most
I work in the oil field and it gets pretty cold out here!! At times I have to wear a mask, and my glasses continually fog up. I've tried everything under the sun to alleviate this problem, so I figured I would give this a try. Although it is better than most that I have tried, it still does not completely eliminate fog or condensation buildup on your glasses. I followed the instructions to the letter, but still was not completely satisfied with the results. I thought that I found the holy grail, but anyway…
Super customer service/Very Effective anti fog gel
Great customer service-a discount for ordering 3 gels was not applied when I checked out. Called and the issue was resolved satisfactorily immediately. Also if I have a question, I am greatly pleased with the quick, accurate, personable response I receive. The anti fog gel works exceptionally well.
Secrets for success
When I first received the product, I applied it according to the video with "spotty" results. Here is what actually works for me:
1. Wash the glasses with soap and water, and dry with a clean soft cloth. This is my normal cleaning routine. It's great for removing oily smudges and any grit without scratching.
2. Apply a small dot of gel on the front of the first lens, and smear it evenly over the whole front of the lens with your clean fingertip.
3. You might have enough left on your finger to do the other lens front, but if not, apply another tiny dot to finish smearing the second lens front.
4. Do the same process on the back of each lens.
5. Use the provided chamois to buff each lens very gently, only until it's clear and smear-free. Don't apply too much pressure! This is a surfactant, so it must remain on the surface of the lens to be effective. Too much pressure might totally remove it.
6. Put your COVID mask on and breathe hard. If there is any fogging at all, repeat the process. After the second or third try, you will be a pro.
I'm just waiting to see how long it lasts. In any case, I'm very happy to have finally found an anti-fog product that actually works! The true test will be when I go motorcycling in the cold tomorrow …
It works!
Progear anti fog eye glasses really works. Wearing masks made it impossible to see with fog on my glasses. Progear saved me. I strongly recommend it.
No more foggy glasses
Works great for my kids glasses . No more foggy glasses while wearing a mask.